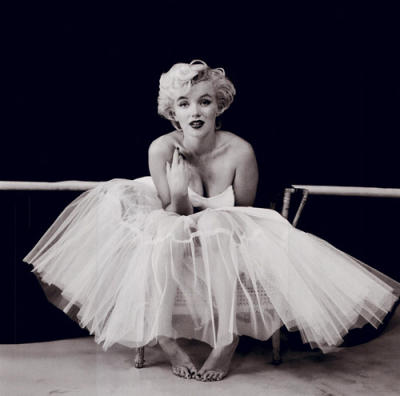 My favorite photo.
Today would have been Marilyn Monroe's 83rd birthday, had she not tragically died on August 5th, 1962, from a accidental drug overdose. (That is what I believe her death was, by the way--an
accident
.) Today, Life magazine posted some never before published photos of her before she was super famous.
Check out the photos at http://www.life.com/!
This MM photo started it all...Norma Jeane was working during WWII at the RadioPlanes Munitions Factory, when an Army photographer took her picture and encouraged her to become a model. She became one of Blue Book Modeling Agency's most successful models.
Plus, Julien's Auctions will be auctioning off many, MANY Marilyn items this summer! I really wish that I had the $$$ to get some of this stuff--clothing, furniture, receipts, etc! You can check out the catalog
at http://www.juliansauctions.com/
(start at page 84-84).
The necklace MM wears here is one of the many items for sale!
I have loved Marilyn Monroe for a long time. One of my earliest memories of watching television is sitting in the living room with my mom, watching this beautiful blonde Barbie doll/woman dance on a giant pink stage in a Pepto-pink gown and gloves, singing "Diamonds are a Girl's Best Friend." But I was a teenager before I really started paying attention to her. I have shelves of Marilyn Monroe biographies and picture books. I have almost (
almost!)
all her movies on VHS or DVD, and cd's of all her songs. I even dressed up like Marilyn for Headland's homecoming week 2 years in a row--and won both times!! (I think it was the actual impersonation that pushed me over the top...)
Marilyn singing "Diamonds are a Girl's Best Friend" in the movie, Gentlemen Prefer Blondes
Senior year, 2002, imitating "Happy Birthday, Mr. President" MM

So I am really a fan, not just of her movie persona, but of the actual woman. The Marilyn who read books, who took night classes because she didn't want to feel uneducated, who practiced take after take because she really wanted to get the scene right, who loved and lost and had her heart broken, who was under-appreciated by her peers, who loved children but never could have any of her own--I like that Marilyn best.

Please check out MM's at http://www.marilynmonroe.com/ if you want to learn a little more about her.

Happy birthday, Norma Jeane.